All Smog Center Test and Repair
$39.75 Smog Coupon – Valencia, Santa Clarita
About Our Smog Station: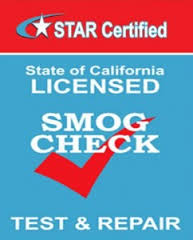 All Smog Center Test and Repair is certified smog check station by the California Bureau of Automotive Repair (BAR) to perform all types of DMV smog checks on all vehicles.
We are quick – no appointments necessary and we can process your paperwork, inspect your vehicle, perform the tests, explain the results and have you on your way in 15 minutes. All Smog Center transmits your results instantly to the DMV for you. If your schedule is tight, we are happy to make an appointment for you – just call or email for a smog test appointment.
All Smog Center Test and Repair
provides discount smog check to the following cities: Santa Clarita, CA l Valencia , CA l Pico Canyon, CA, 91355 and Santa Clarita California.  Smog Check coupons are available at smog coupon page.  You MUST present smog test coupon prior to the smog test. Please read the coupon, and term and conditions very carefully.
Smog Test
All Smog Center Test and Repair certify DMV smog checks for all vehicles. STAR smog check, Smog test and smog inspection, smog certification, smog testing and Smog Coupons.
Fast and Easy
★★★★★
"
It was fast and easy, a good experience, Mike was kind and he even honored the coupon that I didn\\\'t bring.\r\nGood service, I will come back again.
"
Great service
★★★★★
"
Great service! Mike the owner was very Friendly and offered me coffee while I waited. I will bring all my cars here.
"
this place is nice and clean
★★★★☆
"
The guy who did the smog check was nice and explained stuff in plain English. Very detailed which I appreciated. However I showed him the Yelp coupon on site but he said its expired even though the coupon doesn\\\'t have any date on it. This sucks cos I had to pay an extra $36.75 and I went there for the coupon deal on smoging. Not sure if this is Yelp\\\'s issue or not but I did not like my experience with the coupon. Apart from that this place is nice and clean and you can sit besides the car when the smog check is being done. The whole thing took like 20 minutes which is great.
"